April 14, 2014
This afternoon we have seen dovish comments from ECB policy makers:
– Bonnici stated that Negative deposit rate could impact EURUSD in the right direction.
– Noyer stated that the more EUR appreciates, the more need to act
The common message is that the ECB will act to combat the rise in EURUSD as it is hurting the domestic economy.
Although the bearish EUR comments, we have not seen the EURUSD reat a great deal. I still personally like selling USD mostly on the fact that the FED is not providing an absolutely clear direction on rates. There are a few trades I am looking at, in particluar to sell EURGBP. This will take out the effect of the USD. Although i feel the USD will fall, i think it will fall by more against the GBP than EUR. I have therefore instated a short EURGBP position at 0.8260, with a stop at 0.8315, target 0.8190. The stop is placed above the double top of 0.8309, and the target, in front of the yearly lows.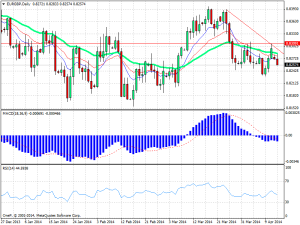 It meets the conditions on the MACD and is not oversold on the RSI, leading me to think the next move is down.