June 5, 2014
Good morning,
This afternoon sees the release of the ECB & BOE Interest rate decisions at 1145 GMT and 1100 GMT respectively. There will also be a press conference from the ECB leader Mario Draghi beginning at 1230 GMT. The market has been on standstill for the past few days waiting for these decisions/meeting.
The ECB has faced the problem of sluggish growth over the past few months, accompanied with relatively low inflation and a high EUR/USD rate. He has attempted to talk down the single currency by hinted at rate drops and potentially negative interest rates. This in a way has helped, and we have seen EURUSD drop from 1.4000 to 1.3600: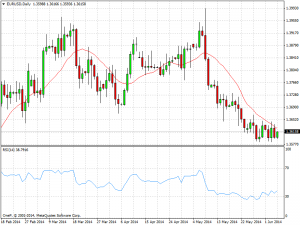 The market is expecting number of measures from the ECB today which will include negative interest rates for banks which place their money with at the ECB in an attempt to encourage (force) the banks to increase lending thus stimulating the economy. The risk today is that the ECB do nothing, which to be totally honest seems highly unlikely. If that were to happen, you could expect EURUSD to spike and test the highs at 1.4000 subsequently. Personally, i feel even if the ECB do something, EURUSD will drop followed by a relief rally which will provide potential opportunities to sell.
The GBP will also be in focus due to the BOE meeting. The market expects nothing from the decision, hence we expect the GBPUSD will be relatively quiet compared to EURUSD, with GBPUSD and EURGBP following EURUSD.
Good luck today!