June 17, 2014
Good morning.
This morning we have seen the release of UK CPI data and the German ZEW:
UK CPI:
May's drop in UK consumer price inflation demonstrates that strong growth in economic activity is not prompting underlying price pressures to build. The market was expecting 1.7%, but the read came out at 1.5% (slightly below expected), and also confirms the pickup in April's reading of 1.8% was due to the late Easter. The move in GBPUSD was as follows, which was also exaggerated by big sellers of GBPUSD around 1.6990-1.7000.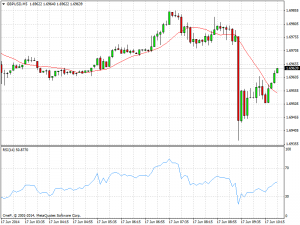 German ZEW:
We also saw a fall in ZEW economic expectations which is suggesting that investors have not been entirely impressed by the recent ECB action (June 05 2014). The reading of 29.8 came in alot lower than the 35.0 which was expected. It is also alot lower than last months reading of 33.1. In addition the overall ZEW Economic Sentiment came in lower than expected. EURUSD was pretty muted falling about 10 pips on the reading.
Good luck trading, with the US CPI out at 1230 GMT being the next important data release.