April 17, 2014
The gold is remaining consolidate for the last two days in a 4 Hourly chart, just above the 1295 support level.
Since it has touched the highest resistance level of 1330 on Monday, it has gradually bounced back with the lowest of 1293 level this morning.
MACD crossed blow 0.00 lines, and RSI is remaining just above 30 levels.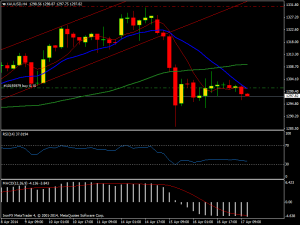 With the tensions remained high in Ukraine, gold price are still showing as bearish. This is mostly due to low inflation rate of UK and of Euro zone, plus encouraging US economic and corporate releases.
Additionally, economic growth had slowed in China in the 1st quarter of this year, which made the gold less attractive.
In my view, it has expected to rise further until political unrest eased between Ukraine and Russia.
Furthermore, Fed Chairwoman Janet Yallen's speech also helped to ease worries about an early interest rate rise in US.