January 20, 2015
Tuesday 20th January 2015 – 11.30
Yesterday saw another strong day of gains for European markets in the absence of US markets due to the Martin Luther King annual holiday, with another record for the German DAX. Traders remain keenly focused on Thursday's ECB meeting where a major stimulus/QE program is widely expected to be unveiled. With the Dax at another all-time high today after the latest ZEW reading came in well ahead of expectations, expectations appear to be incredibly high about the program raising the risk of disappointment if it is smaller than what has been priced in to markets. Regardless, it appears that we could see significant trading action both ahead of and in reaction to that key monetary decision.
Dax: The DAX rose to 10298 yesterday as investors remained fairly convinced that the ECB will supply fresh liquidity in the form of a sovereign bond buying program this Thursday. However it was incapable to beat the all time intraday high of last week at 10313.50 as markets lacked volume. This ended up forming a shooting star and looks as if the Dax is going to fall which should simply be a buying opportunity on supportive candles below as we are now clearly above the previous resistance level. The upside remains favoured with the Dax remaining well above its moving averages while momentum heads slightly higher well above 100 and the RSI stands around 66 as the index consolidates well above the 10150 level. We have no interest in selling this market and believe the DAX will continue to outperform the other European indices.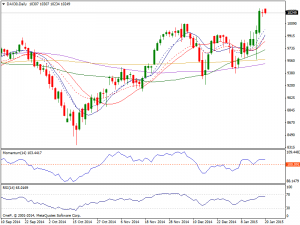 Dow: US markets were closed on Martin Luther King holiday this Monday with the Dow trading slightly below Friday's close of 17511.57. The 4 hours chart continues to maintain a positive trend as momentum bounced from its midline and the index held above its 20 SMA. With that being the case, it still looks as if the Dow is ready to bounce and continue this consolidation that we have seen recently. An intraday high of 17582 (on the 50 DMA) stands as a key resistance for the upcoming session, with a break above it required to confirm an upward extension towards levels above 17600. We have no interest in selling and believe there's far too much support below.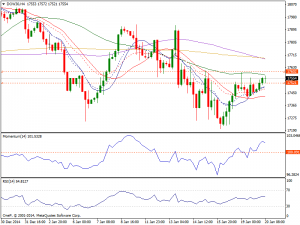 FTSE: The London benchmark surged to close the day at 6595 amid earning reports from retailers and posting its third session in a row of gains. It now looks like as if we are trying to break out, but there is significant amount of resistance between here and the 6650 handle which is more of a resistance zone. On the daily chart it shows the index still developing below its 100 DMA, breaking resistance around 6583 while indicators advanced further towards their midlines, but remain in negative territory. Ultimately we are looking for pullbacks and a sign of support at lower levels as this market continues to push its way higher overall, thus we are buyers only.