January 22, 2015
Thursday 22nd January 2015 – 11.00
So we come to what could be one of the most crucial days for the euro in years. This is expected the day that Mario Draghi announces a package of QE that will significantly increase the size of the ECB balance sheet possibly by around €1 trillion within the next two years. We have had leaked reports that a €50bn per month programme of sovereign debt (and possibly a combination of corporate debt) purchases will be engaged today and could last for between 12 months and two years. Consensus estimates suggest somewhere in the region of €500/€600 billion in total will be announced. With sharp falls on the euro and sharp gains on Eurozone equity markets already seen it as difficult to know what the reaction will be, however there is certainly the potential for a "sell the rumour, buy the fact" rally. Equity markets have been volatile, but nonetheless have broadly been consolidating in recent days:
Dax: The Dax primarily fell throughout Wednesday, but found enough support at the bottom of the gap from a couple of sessions ago and turned back around, forming a hammer, closing at 10299.23 on renewed hopes easy, fresh money will reach the markets after the ECB reveals some form of QE in the upcoming European session. This hammer of course is signifying bullish momentum, thereby making us long, hence pullbacks offer value and we see the DAX heading off to the 12000 level given enough time. Therefore we have absolutely no plans on selling and believe the uptrend is still very strong and ready to continue.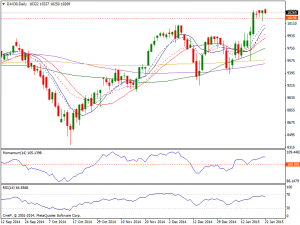 Dow: The Dow initially fell during the course of the day on Wednesday testing the 17400 level. Technically, it appears that the buyers stepped in and pushed the Dow higher to form a hammer. If we break the top of the hammer at the 17600 level, we believe that this market will continue to go higher and aim towards the 18000 handle again. We have no interest in selling as there seems to be quite a bit of support and as a result we are long only.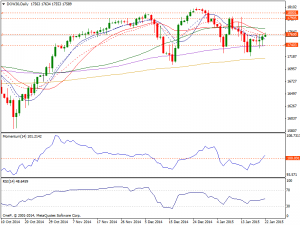 FTSE: The FTSE broke higher during the course of the day on Wednesday, clearing the 6650 level to close the day at 6728.04 a fresh 6-week high, boosted by a recovery in oil prices that supported energy related equities. Technically the 6650 level was an area that we had anticipated seeing a bit of resistance and thereby breaking above there is of course a very positive sign. We believe that the market is now free to head to the 6750 level and then possibly break out above there. Regardless, we have no interest in selling this market and believe in going long is the only thing you can do. However, the ECB decision is a huge risk factor that indicators are unable to reflect so caution is recommended across all boards until the news is finally out.