January 26, 2015
Monday 26th January 2015 – 11.30
As largely anticipated, the opposition party Syriza has defeated the incumbent New Democracy in Greek elections held yesterday. Syriza's leader and now Greek Prime Minister elect, Alexis Tsipras, has already pledged to form a coalition government dedicated to ending austerity. Uncertainty here could weigh  in on the equities markets and more generally could also heighten risk aversion.
Dax: The Dax pushed higher on Friday extending up to the 10708.30 handle, but pulling back some of the gains intraday amid US indexes falling, nonetheless having settled at 10625 and as a result we should continue to see bullish momentum. The ECB's decision to start a facility program by buying bonds had been a green light for local stocks combined with the EUR/USD trading at multi-year lows has been welcomed by German exports, as they are now becoming more competitive on foreign markets. Technically, the daily chart shows that indicators maintain a strong upward momentum despite in extreme overbought territory, whilst the index holds well above moving averages. That being the case, a pullback at this point in time would be a potential buying opportunity in a market that is most certainly bullish. Hence we are buyers only and have absolutely no interest in selling this market and believe that the DAX should continue to go higher and towards the 12000 level.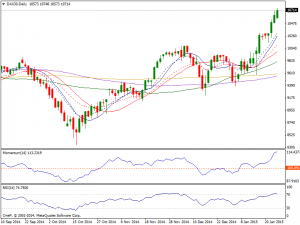 Dow: The Dow fell during the session on Friday, but just slightly closing down at 17672.60 napping a four-day winning streak as U.S. companies reported mixed quarterly results, with disappointing earnings news from UPS and Kimberly-Clark among others. During this week, over 140 S&P 500 companies will report earnings and stocks will likely trade alongside with earning reports. Furthermore, the FED will have its first meeting of the year this Wednesday. The 17900 level offers resistance though, but we need some form of a pullback maybe at the 17665 level for a buying opportunity and need to see some type of supportive candle in order to start going long again. We have no interest in selling and believe that the Dow is still supportive and will have to wait in order to get our buying opportunity going forward.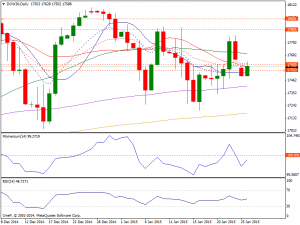 FTSE: The FTSE broke much higher during the course last week and now looks very positive. The daily chart shows that the index holds well above its moving averages, whilst indicators maintain a clear upward momentum, heading north well above their midlines. It's probably only a matter of time before we hit the 6900 level, but a pullback could possibly be what we need in order to continue the bullish pressure. If we break above the 6900 level, we should then head to the 7000 level. The risk of a downward break comes from falling oil prices, as renewed selling pressure in the commodity space will likely drag the London benchmark lower. However, currently we have no interest in selling the FTSE because most indices around the world right now look very positive, so therefore we have a bullish attitude in general.