January 28, 2015
Wednesday 28thJanuary 2015 – 13:00
A multitude of disappointing earnings and weak economic data hurt US markets yesterday but Apple has come to the rescue on Wednesday announcing the biggest corporate quarterly profit ever made which is setting up US markets for a higher open ahead of the latest Fed meeting.There is an expectation of no major change to the Fed meeting although the usual debate over the wording of the length of time the FOMC will hold rates at record low levels with "patience" and "considerable time" still featuring. However if there is a subtle shift to a more dovish tone, in light of the oil price and global disinflationary pressures, then there could be a significant dollar correction and a short squeeze on pairs such as EUR/USD.
Dax: The Dax pulled pushed lower during the session on Tuesday, but remains well within the consolidation that we've seen over the last couple of days. The daily RSI and stochastics are rolling over, a sign that for now the upward momentum has run its course. Beyond that, there is a gap below at the 10500 level which should offer support, so any pullback at this point in time will be looked at as potential value in our eyes as the ECB effect is continuing to wear off, aided by concerns that tonight's Fed decision is not likely to prove conducive for more equity upside. We believe the supportive candles after pullbacks are nice buying opportunities encouraging the markets to push higher.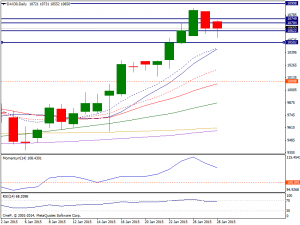 Dow: The Dow as you can see fell during the course of the session on Tuesday, testing the 17300 level. That being the case, the market looks as if it is ready to continue the consolidation as we bounced a bit towards the end of the day. The market should head back to the 17900 level and as a result we are buyers of supportive candles on short-term charts. Ultimately, if this market breaks out later, we would have to clear the 18100 level as it would send this market looking for 20000 given enough time.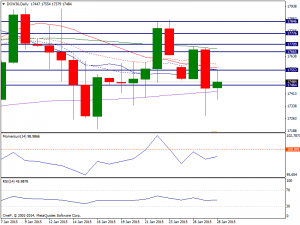 FTSE: The FTSE fell during the session on Tuesday breaking below the bottom of the hammer from the Monday session. While this is normally a very negative sign, we did get a little bit of a bounce towards the end of the session so we do not believe that this is the beginning of something major as far selling is concerned. We believe that there is plenty of support below, starting at the 6750 level. We think the pullbacks continue to offer value as the FTSE heads towards the 7000 area. That area is resistance, so we may simply have to back up a few times before we break out.