January 29, 2014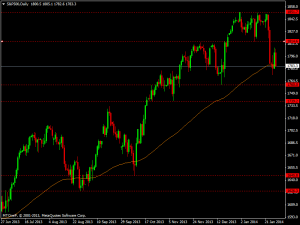 Recent events in the EM has given equities a sharp sell off, with the S&P falling almost 4% last week. I have been a bear on equities for a while now and have been caught on the wrong side of some good moves up. Reasons I know think we have topped out in the s&P.
Formation of a head and shoulders on the S&P
There is a greater level of correlation between credit and the stock market rather then the real economy, with tapering likely to continue this year this is a tightening of credit and is likely to weigh on the S&P.
A formation of a bearish engulfing daily candle on the S&P on a close below the 1772 low.
The bulls will still remain optimistic of further upside for as long as 1740 holds, through there though and there isn't much support until 1626-1645.  I like selling rallies in the S&P targeting these levels of support.