April 23, 2014
The gold has continued to decline and touched the lowest support level of 1277 since 1st April.
So far political unrest in Ukraine and US sanctions threat to Russia is doing nothing to support the precious metal prices go up.
Recent positive economic growth signs in China, UK, Euro zone, and also encouraging US economic and corporate releases pushed the gold further down.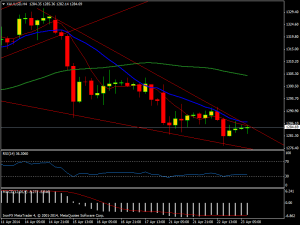 Since it has touched the highest resistance level of 1330 on 14/04/14, it has gradually dropped back up to the lowest support level of 1277.
MACD is remained at the bottom of 0.00 lines, and RSI is still just above the 30 levels.