April 16, 2014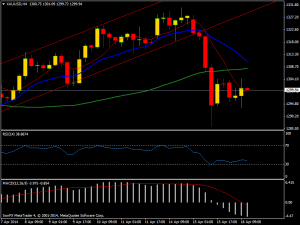 The gold is now moving downwards in a 4 Hourly chart, remaining as below as 1293 support level. Since it has touched the highest resistance level of 1330 on Monday, it has gradually bounced back with the lowest of 1293 level this morning.
MACD crossed below 0.00 lone, and RSI is just above 30 levels moving upwards.
Despite the tensions raised in Ukraine, gold price showing as bearish, mostly due to positive data's with yesterdays 4 ½ years low inflation rate of UK, and lower inflation of Euro zone. Additionally, recent positive US indicators are making the gold less attractive.
In my view, it has expected to fall further down, unless if there will be further sanctions to Russia. Furthermore, investors keeping eye on Fed Chairwoman Janet Yallen's speech later today.